The Cold weather has blanketed Miami and it's that time of year when we take advantage of cooler temperatures and take our kids on Fun outdoor adventures. South Florida is known for some pretty amazing outdoor activities and attractions. We've rounded up a few of our favs!
Take a look:
Zoo Miami-
Expereince Dinosaurs Live at Zoo Miami running January 18th – June 14th
Zoo Miami
12400 SW 152 St.
Miami FL, 33177
Take your child to see the everglades, spot some alligators, and jump on board an airboat ride! You can hop onboard the tram to take a tour of the national park or they offer bicycle tours for the active family!

Shark Valley Loop Road
Miami, FL 33194
Hours: 8:30am – 6:00pm Daily
Expereince the Indian village of the Miccosukke. Here you can explore the life of the Miccosukke Tribe, check out real alligators up close, and ride an airboat through the everglades.
Miccosukee Indian Village
Mile Marker 36, US-41, Miami, FL 33194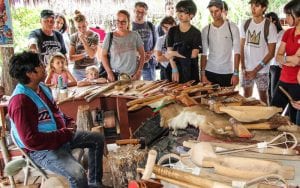 Luminosa is still running until February 9th! If you're wanting to check out the animals and enjoy the day at Jungle Island, they have lots to do! You make the experience extra special with Animal encounters, Winged Wonders shows, and a newly added Escape Room!
Address:   1111 Parrot Jungle Trail
Miami, Florida 33132
located at the Haulover Park Kite Field, on the Intracoastal near the Bill Bird Marina. Skyward Kites has free parking, kites, drinks, ice creams, parties, and festivals! Bring you're family and friends, a blanket, a lawn chair, or a picnic, relax and enjoy the South Florida breeze and the view of the Haulover Sand Bar.
Address: 10800 Collins Ave
Miami Beach, Fl, 33154
One on one encounters on the Rainforest Adventure Tour are the best way to experience Monkey Jungle.  Reservations are highly encouraged. Explorers on this special adventure are immersed in a 4 acre natural habitat filled with monkeys. Your Jungle Guide brings to life the wonders of the Rainforest and its amazing creatures. Experience up close encounters with a troop of squirrel monkeys or the greeting from a capuchin monkey. Cost 129/ per person Includes admission , shows, monkey food, etc..