ICA Exhibit: All the Eternal Love I have for the Pumpkins by Yoyoi Kusama turned into a delightful family day in The Design District.
Details about Kusama Exhibit
 Now through January 31st, The Institute of Contemporary Art Miami will showcase its newest exhibit : an infinity mirror room by the artist, Yoyoi Kusama. Kusama's polka dot print is bold and bright printed on the pumpkins, reflected to infinity in a room full of mirrors.
The exhibit can be visited Thursday – Sunday and is located just across the street from the ICA museum. You'll notice a yellow polka dot painted fire hydrant in front.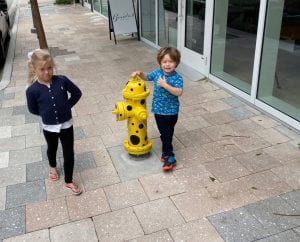 Admission tickets must be reserved in ADANCE online to view Friday – Sunday. Tickets are purchased for 15/ per person and this entitles you to visit the Infinity Mirror Room for a timed 1 minute. Children must be accompanied by a parent and you're only admitted to enter 1 time during your given ticketed time
If you'd like to take advantage of free admission, Thursday the exhibit is open on a first come first serve basis until 5pm. Expect longer lines on this day.
Our Experience & Helpful Tips :
If you're planning to visit with children, all children ages 12 and under must be accompanied by an adult, with no more than one child per adult. So if you're going as a solo parent and planning to bring your 2 munchkins, you may want to enlist the help of a relative, spouse or friend.
In my opinion, the exhibit is a fun family afternoon activity. My kids really enjoyed stepping into the mirrored room only to see their little faces go on and on – to infinity and beyond! I wouldn't plan an entire day around it, you're really given 1 minute to experience the art so lugging your family to Design District, Finding Parking, carrying gear can be a giant pain for such a short activity
Where to lunch in Design District w/ Kids:
 However, if you plan to spend the day, Grab lunch at St. Roch Market (a gourmet food hall located on second floor of the palm plaza). You'll see wired swings out front – this is super fun for the kids. Inside the food options are quite tasty, my favorite Jaffa (Middle Eastern food). The chicken shawarma tower is some of the best in Miami. The Tahini, salads, and sauces are so fresh and flavorful.
My kids were drooling over the fresh pasta at DalPlin. We opted for the Fettucine Bolognese and a plain spaghetti. Both were delicious but my kids actually preferred the Bolognese. You can see the staff making fresh noodles behind the glass. My little guy was lucky enough to snag some fresh uncooked noodles from the pasta maker.

After lunch, we grabbed a strawberry chocolate cupcake from Chloe , a vegan bakery also located inside St. Roch. The desserts there are some of the best vegan sweets in Miami! I enjoyed an iced americano from Sabal- a craft coffee vendor.