The epic wonderland of Walt Disney World is the ultimate in kid (and many adult!) vacation fantasies. Jacksonville, FL resident Kate Stollenwerck, author and mom of three, has visited the Walt Disney World parks close to 50 times. "Being local, we tend to treat Disney World like Las Vegas — it's best to be in and out in 48 hours," she says. "But recognizing that most people will travel a great distance to get to Orlando, you want to maximize your experience in whatever length of time you stay." She gives her top tips for doing Disney like a pro.
Kate Stollenwerck's 15 Genius Disney World Recommendations
1. Stay on Site
If it's your first visit to Disney World, stay at a Disney property. They tie in some amazing perks and amenities and you will get the full-on Disney experience by staying on property. What are said perks? Early and extended park access hours. This is major, especially if you're trying to hit all the musts on your list of "ride or die" attractions. And as much as you might not want to get up early on vacation, do it. Get to the park for "rope drop" and literally run to your first ride choice. You should be able to get in at least one, if not two rides before your first Genie Pass starts.
2. Use Genie Pass
Genie Pass is the new fast pass system and although it is generally given a thumb's down by all Disney fans because the old system was free, it's a must. Pay the charge (it fluctuates depending on the business of the parks), and you cannot purchase until midnight of the day you are going, but set your alarm, log on and buy. Then at 7 AM (if staying at a Disney property because you get first priority) hop on the app and pray that a few good rides have early availability. You should be guaranteed at least 3 rides (if not more) through the fast pass lines.
3. Ride When Other Patrons Are at the Parades
Skip the parades if your kids are older. At Magic Kingdom, the parades are a great time to get on attractions quickly, especially Fantasyland when all the little princesses and princes are off to watch the parade. Do not skip the parade if your kids are young and you've never seen one because they are truly magical. But if your kids are older and don't seem impressed with characters, take the opportunity to get a few rides in. Ditto for fireworks shows in the evening.
4. Bring Your Own Food
Pack snacks! Food at Disney World comes at a premium price. While generally the food is very good, you can spend a lot of time and money on it. And nothing ruins a visit to the park faster than cranky, hangry kids and parents. So have a snack bag packed. Plus, bring a water bottle or ask for free water. 
Before you get started for the day, make a cheap and easy breakfast in your room. Bring oatmeal and make with hot water from the in-room coffee maker. Add dried fruit, power up and get out the door!
5. Experience Classic Disney
Buy a set of ears and take a photo in front of the iconic Cinderella castle. Have a Mickey bar at least once — ice cream never tasted so good. Take your photo with some characters, preferably the old school gang of Mickey, Minnie, Donald or Goofy, but don't pay for their photos. You are allowed to snap at the same time with your cell phone.
6.

Consider Park Hopping

 

Feeling ambitious? Attempt the Disney marathon: Four parks in one day! Put that park hopper to use! Start early and hit the iconic rides: Thunder Mountain at Magic Kingdom, Test Track or Soarin' at Epcot (Guardians is new iconic but takes an hour to get through even with virtual queue), Rock-n-Roller Coaster at Hollywood Studios and Everest at Animal Kingdom. Bonus points if you can add in a few other classics. I've done it once in all my years going, and it was a Disney bucket list experience!
7. Plan Seated Meals in Advance
Make dinner reservations before you go. Months before preferably. The parks have some fantastic restaurants, but reservations sell out and waits can be a bear and a total buzzkill to your day. Insider tip: if you haven't made a reservation in advance, keep checking throughout the day on the My Disney Experience because reservations pop up as other families cancel. Also, there is bus service to shopping and restaurants at Disney Springs (a fun place to hit), but, again, make that resie!
8. Special Events Really Are Special
Want something extra magical? Take in a special event! Mickey's Not So Scary Halloween party, Broadway at Epcot, Epcot Food & Wine Festival, and Mickey's Very Merry Christmas Party are worth the upcharge.
9. Make Your Stroller Stand Out
Are you renting or bringing a stroller? Bring a bright-colored ribbon and tie it on. When you exit a ride and 50 identical-looking strollers are lined up and you can't even remember where you parked yours, the ribbon will save you.
10. Choose Your Must-Dos
Have a plan before you go. Strategize your day. You can waste a lot of time roaming around aimlessly. Remember to be flexible and calm. Have backup plans as sometimes attractions are closed or rides break down for a period of time.
11. Wait in the Single Ride Lane
Take advantage of single-rider lanes if you have older kids or for adults. Only a few attractions have them, but what a gem mine they are! Smugglers Run and Rock-n-Roller Coaster at Hollywood Studios, Test Track at Epcot, and Everest at Animal Kingdom currently have single rider lanes, and you can breeze through the ride in record time. Many times we've gone single rider and ended up on the same car or experience.
12. Enjoy Hotel Time
Spend a day enjoying the Disney activities at the hotel. You can skip the park and have a fun-filled day at your hotel with pool time and the other entertainment offered. Book a lunch reservation to see other hotel genres, for example Animal Kingdom resort to see the animals. Or take in the thoughtfully-designed theme hotels via the monorail, skyliner, or boat launch. Certain pools at adjacent resorts will be available to guests of nearby hotels, so check if you have more than one resort pool available to you.
13. Go Cruisin'
Consider a Disney cruise add-on. Their private island in the Bahamas, Castaway Cay, is pure kid heaven.
14. Travel with a Disney Pro
Consider vacationing with family or friends, one of whom is an expert at all things Disney – or wants to be. A Type-A, uber-organized companion is your best bud right now. Plus, the super bonus: built-in playdates and extra sets of hands if you travel with families or friends whose kids are similar ages to yours.
15. Breathe
Take a few deep breaths. You won't be able to do it all, but hopefully, you will get enough magic to have happy hearts.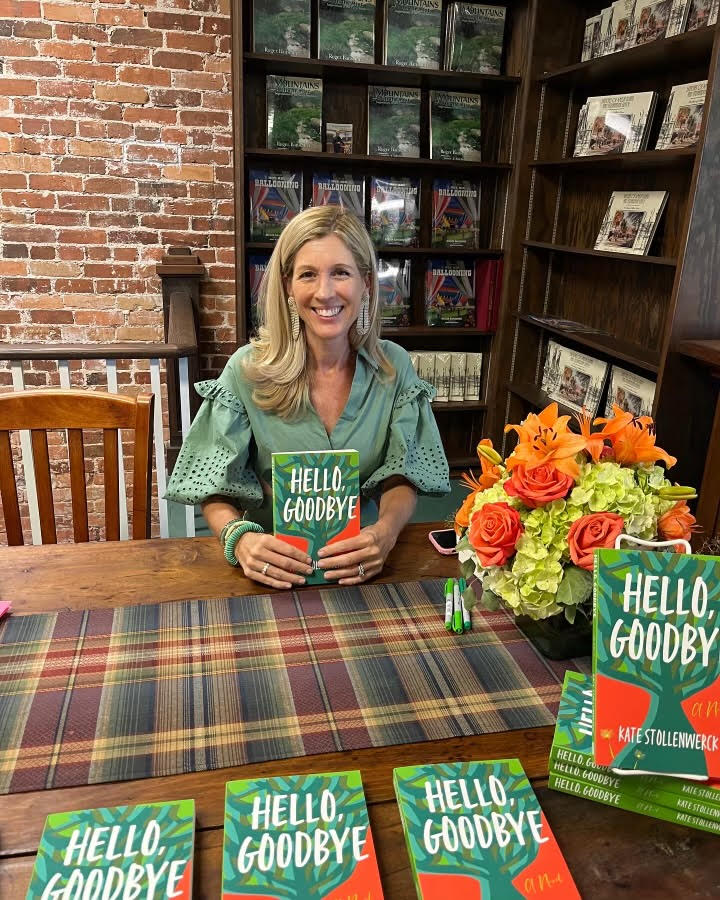 Kate Stollenwerck lives in Ponte Vedra Beach, Florida with her husband and three kids. Her debut young adult novel, Hello, Goodbye, was released in 2022. You can find her at @katestollenwerckauthor on Instagram and Facebook.