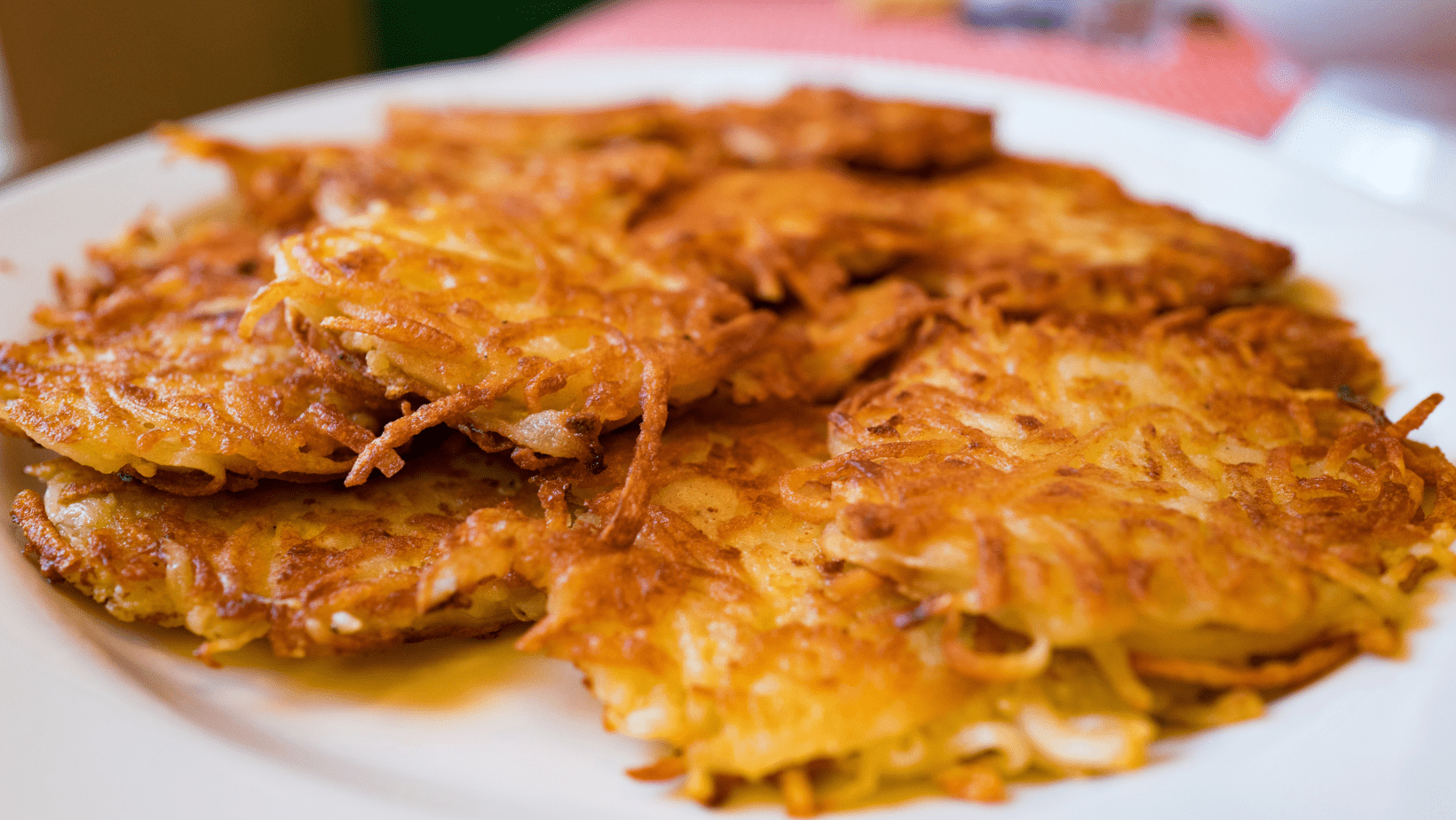 This classic Hannukah Latke recipe can be fried earlier in the day and recrisped in the oven prior to serving—so you can get your latkes ready to go before the kids come home and won't be dealing with hot oil with little ones underfoot. Thanks to dad of two Mike Geller who is founder of Mike's Organics, a farm to table foodie destination and delivery service, for sharing this delicious recipe and great reheating tip.
Ingredients
2 1/2 pounds baking potatoes

1 medium onion

2 large eggs, beaten

1/2 cup finely chopped scallions

1/4 cup matzo meal

3 tablespoons unsalted butter

2 teaspoons kosher salt

1/2 teaspoon black pepper

1/2 teaspoon baking powder

Vegetable oil

Applesauce

Sour cream
Prep 
Peel and coarsely shred the potatoes on a box grater.

Peel and coarsely shred the onions on a box grater.

Melt and slightly cool the unsalted butter.

Chop the scallions.
Directions
In a colander set over a large bowl, toss the potatoes with the onion and squeeze dry. 

Let the potatoes and onion drain for 2 to 3 minutes, then pour off the liquid in the bowl, leaving the starchy paste at the bottom. 

Add the potatoes and onion, along with the eggs, scallions, matzo meal, butter, salt, pepper and baking powder; mix well.

In a large skillet, heat an 1/8-inch layer of oil until shimmering. 

Spoon 1/4-cup mounds of the latke batter into the skillet about 2 inches apart and flatten slightly with a spatula. 

Fry the latkes over moderately high heat, turning once, until golden and crisp, 5 to 7 minutes. 

Transfer the latkes to paper towels to drain, then transfer to a platter. Repeat to make the remaining latkes, adding more oil to the skillet as needed. Serve with applesauce and sour cream. 

The latkes can be fried early in the day; recrisp on a baking sheet in a 350° oven.