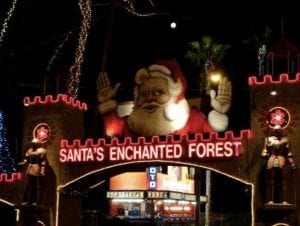 Santa's Enchanted Forest is officially open! Known as the world's largest holiday theme park, it has over 100 rides, shows, games, and attractions to please both children and adults. Many have heard horror stories about visiting the park with little kids – fear of crazed tennagers, filthy bathrooms, loads of junk food. Yes, that all sounds frightening and very miserable for the parents, but the kids LOVE it and it really brings in the holiday season!
So fear not, follow these tips and you're sure to have a great time!
Go Early
The park opens at 5pm, be there right when the gates open. Be sure to purchase your tickets online before you arrive. The Ticket link can be found here. You may also want to purchase the Express Pass to save time in Lines. (Unless you arrive right at 5)
Express Pass is an additional 18/ per person but if you're planning to go closer to Christmas or Thanksgiving day, it'll be worth you're sanity!
Head Straight to the Rides- Skip the Photo Ops until the End
For the little kids, there are the Buzzing Bees, Merry Go Round, and Pirate Ship Fun House. If you're a little older, you can enjoy the Sky Hawk Swings, Euroslide, and Haunted Mansion.
And If your little one is not into rides, there are still plenty of opportunites for FUN! You can be amazed at the Dale Scott Magic Show. Try your hand at the Soccer Kick, Balloon Dart, or Ring Toss games.
Bring Cash
All rides are included in your admission ticket but you will need cash for food, and the extra attractions such as Carnival typle games, face paint, caricature draws all require cash.
Be Prepared with Loads of Wipes
The bathrooms at the Forest are known to be a little grungy (it's a carnival!). Be prepared with plenty of wipes and hand sanitizer. You'll want to be sure their paws are clean before hitting up all the food vendors!
Maybe the Best Part – the Food!
I don't make a habbit of eating this type of food (actually I NEVER) but once in a while, I allow my kids and Husband to indulge in those Carnival favorites. Santa's Enchanted Forest is known to offer a wide variety of fried choices — pork, doughnuts, chicken, and Oreos . According to Miami New Times, Here are the local favorites: Chicharrones (fried pork strips),  Fried Donuts, and The Turkey Leg.
And if you're hoping for a healthy option, it doesn't exist. Better off BYO