Photo by: Mary Ellen Matthews/NBC
As co-host of the third hour of the TODAY Show, Sheinelle Jones shines a light on some of the week's biggest stories, alongside Dylan Dreyer, Al Roker and Craig Melvin. At home, she is Mom to three: son Kayin (13) and 10-year-old twins, Uche and Clara.
Jones wakes up at around 5 am and says if she's only doing the 9 o'clock hour of the show, she'll be in pigtail-tying and oatmeal-making mode until she leaves for the studio. "But when it's earlier, they're still sleeping. I try not to do interviews after 3, so I can pick my kids up at school," Sheinelle says of working toward a life-work balance. "Earlier in my career I felt like I was losing touch with the kids because I was doing interviews before or after school. And once you have those boundaries, everyone knows," she adds.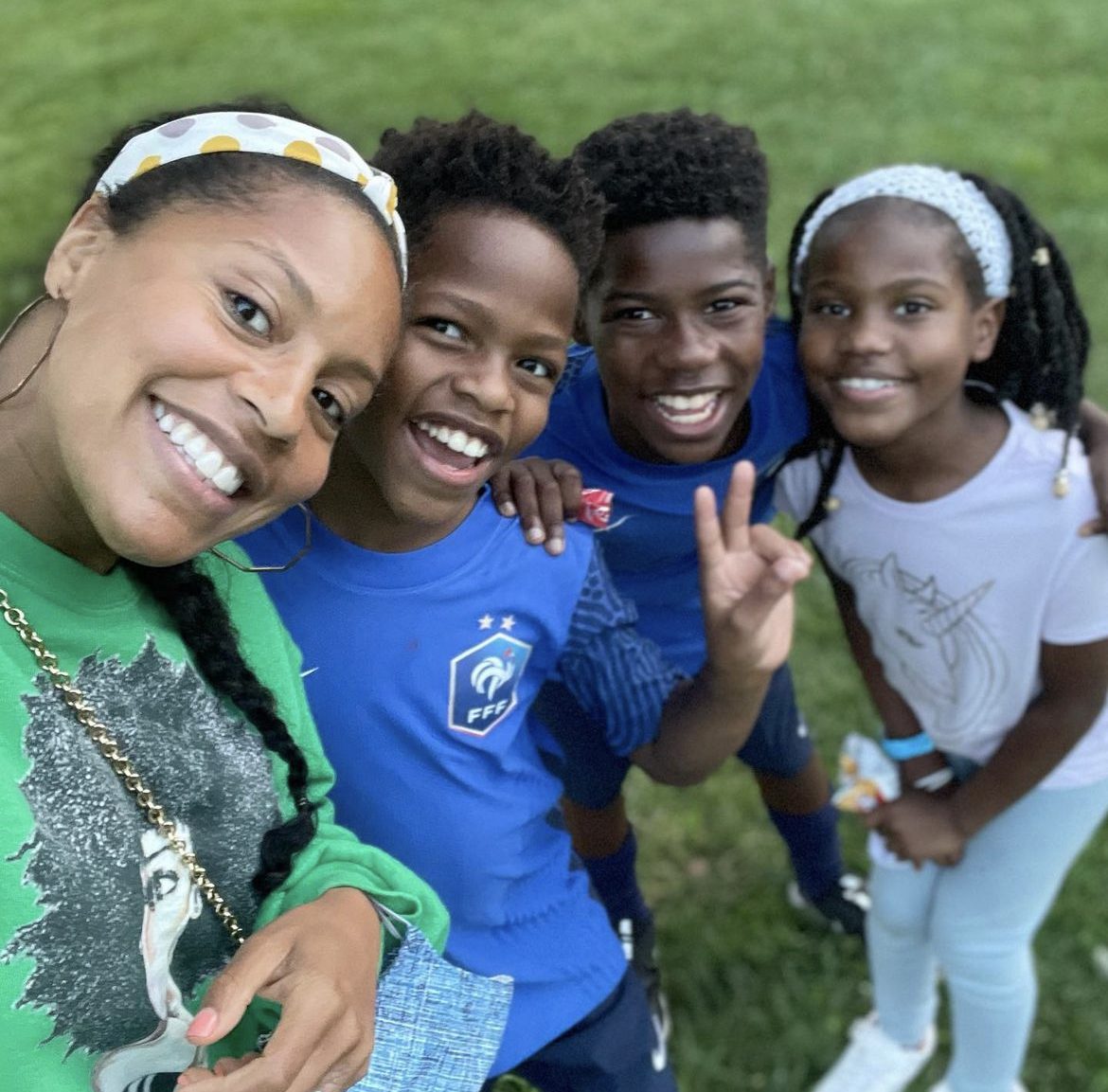 Today, she focuses on what's in front of her, instead of doing it all, all the time. "I try to be fully present whatever I am doing—I've had to learn that with each passing day," says Sheinelle. "When I'm with my kids, I want them to know I'm with them. When I'm on the air or meeting new people, I try to be immersed in the interview. If I'm at a [kid's sports] game or a show for my daughter, I try to be all in," she adds.
She says compartmentalizing works well for her, but she admits it's not easy: "I'm doing the best I can do. There are days I feel like I'm on a treadmill and running at 6.9, and I want to straddle the treadmill and put my feet back on…but the treadmill is still going."
On the TODAY Show, she is joined by fellow moms like Savannah Guthrie, Hoda Kotb, Dylan Dreyer and Jenna Hager, and she's also part of a group of accomplished Black journalists like Al Roker, Craig Melvin, Kotb and others. Recently, she gave an interview for Black History Month during which she talked about the responsibility of breaking boundaries.
"I grew up in a family where Black history was key. My mom was a teacher and my grandmother was on the school board. Education was a top priority," says Sheinelle, who now teaches her children in the same way. "My kids will learn about Martin Luther King, Jr., or Rosa Parks, or something that happened right there in our neighborhood. We'll talk about me as a journalist. We will talk about how we are standing on the shoulders of people who came before," says Sheinelle.
Her close-knit family is anchored by her relationship with her husband, who she has been with since college. And she doesn't paint her marriage as rainbows and butterflies when asked for her secret sauce for marriage success. "It's really difficult, and it comes in seasons. When the kids are younger, in the morning it's like you're air traffic controllers," says Sheinelle.
"It can feel transactional–you're paying bills or taking care of the kids. And you're looking at them annoyed for not doing the dishes. So we try to do dates and make eye contact and get outside the realm of us as parents," she shares, admitting that date night isn't a weekly spot on her calendar. "When I hear people do date nights every week I think, yeah, right–we went out last week for first time in six weeks. But that random date night lingers. The friendship lingers," says Sheinelle.
Friendship also influenced one of Sheinelle's recent passion projects, a documentary called The Stories We Tell about infertility. After seeing so many friends dealing with miscarriages and invasive treatments, she asked herself why it wasn't being talked about more: "My job as a journalist is to talk about issues affecting our community and this is one of them."
Related stories from The Local Moms Network:
Meet a Mom: TODAY's Dylan Dreyer
Meet a Mom: Joy Bauer of The TODAY Show