As Spring approaches and spring break is about to begin for many, we know the big question for a lot of local parents is, what should we do with the kids? We have curated a list of fun events and activities around the Miami area for families to enjoy. We've included Spring Break Camps, events, and activities/amusements like museums, splash pads/ pools, farms, beaches, botanic gardens, and zoos/animals to visit this spring break with the family.
AGES 6-12 YRS
March 21 – 25
When school's out, Spring Madness at Camp Discovery is IN! Camp Discovery is a S.A.F.E. (Science. Affordable. Fun. Educational) and unforgettable STEM experience for children ages 6 – 12 (grades 1–6). Campers will participate in a ladybug release and create colorful botany creations to learn plant anatomy and the physics behind glow-in-the-dark slime.
AGES 4 years – 5th grade
March 21 – 25
Campers will enjoy all their favorite on-campus activities including sports,
swimming, music, crafts, dance, as well as on-campus entertainment and more!
Campers will swim daily. Kosher Lunch and Snacks included.
Specialty camps available.
CREATIVITIES STUDIO ARTS & CRAFTS
AGES 3–12 YRS
March 17 – 22
Arts & Crafts, Drawing, & Painting:
Private, pod, or group arts & crafts, drawing, and painting for ages 3-12.
Private class themes can be requested by parents & children OR instructor can send weekly options
Examples of popular class themes:
Movies – Disney's Frozen, Harry Potter, Disney's Descendants, Despicable Me
Toys – Emojis, LOL Dolls, LEGO Friends
Book characters – Peppa Pig, Elephant & Piggie, The Gruffalo
Games – Minecraft, Roblox characters.
CREATIVITIES STUDIO DANCE
AGES 2.5–12 YRS
March 17 – 22
Mini ballet – ages 2-5
Children will learn & master all basic ballet steps, positions of arms & feet, chaine turns, basic jumps, & end with freeze dance + a sticker for a great class!
Jumps & Turns – ages 5+
A unique class focusing on all of our favorite jumps and turns in ballet, jazz, and lyrical.
Children will learn & master the following: saute, jete, assemble, changement, echappe saute, pas de chat, grand jete, chaine turns, pirouettes, soutenu turns, and pique turns.
AGES 2-15 YRS
March 21 – 25
We provide a rich farm experience where children learn about the real life. We have pony rides , hayrides , feeding the animals , and arts and crafts , in a comfortable atmosphere where friendships last a lifetime.
We will have bounce houses , water activities , archery , yoga , and also offer extra educational assistance such as Iready, etc.
Please bring a backpack with supplies including
•towel
•bathing suit
•change of clothes /extra shoes
•sunblock
•mosquito spray
Grades Pre-K thru 5th
March 21 – 25
Children in grades Pre-K thru 5th can spring into science at the weeklong Spring Camp: Superhero Science at the Phillip and Patricia Frost Museum of Science from Monday, March 21 to Friday, March 25. They'll spend their break exploring the museum, watching a Frost Planetarium show and learning through hands-on science experiments and activities!
PARIS SAINT-GERMAIN ACADEMY
AGES Born between 2004–2015
March 21 – 25
Train the ''Paris Way'' while having fun! Paris Saint-Germain Academy Spring camps provide intensive training sessions based on the fundamentals of world-class European soccer to level up player's skills, technique, tactics, strength, and endurance. Receive a smooth introduction to the official Paris Saint-Germain Academy methodology designed in France for the best players in the world such as Messi, Neymar Jr, Mbappe, and Di Maria.
Spring Camps (Players from all levels – boys and girls – born between 2004–2015) March 21st – 25th , 8:30 AM – 12:30 PM | Kendall Soccer Park (Miami) March 21st – 25th, 9:00 AM – 3:00 PM | Paris Saint-Germain Academy USA Campus (Broward County Stadium)
AGES 5–12 YRS
March 21 – 25
Kids will experience high-energy fun, athleticism and art expression at Pinecrest Dance Project's Dance & Crafts Camp! Days will be filled with a variety of dance styles such as Acro, Salsa, Flamenco, Hip-Hop, and Ballroom. Campers will also enjoy arts and crafts, learn theater techniques, and practice make-up and costume design. Ages 5 to 12, Spring from March 21st to 25th, Half Day: 9:00 a.m. to 12:00 noon or 1:00 to 4:00 p.m., Full Day: 9:00 a.m. to 4:00 p.m.
AGES 5–16 YRS
March 21 – 25
SPRING BREAK COOKING CAMP IS AROUND THE CORNER!! is the Best Cooking Spring Camp for Kids in Miami! A fun and nutritious activity for kids from 5 to 16 years old! Our kids' cooking spring break camp program offers an excellent way to get your kids to learn about healthy food that tastes great, and of course, have them actually take part in the preparation.
SPACE IS LIMITED! to 30 participants per day! So hurry!! we invite you to register now before your desired dates are no longer available.
Some of the activities included in our exclusive and one of a kind kids' cooking spring camp include Cooking, Baking, Arts & Crafts and much more!
We are located at 570 NE 81st Street, Miami, FL 33138.Lunch and Snacks are provided, so no need to bring anything!
WILDLIFE WARRIORS AT ZOO MIAMI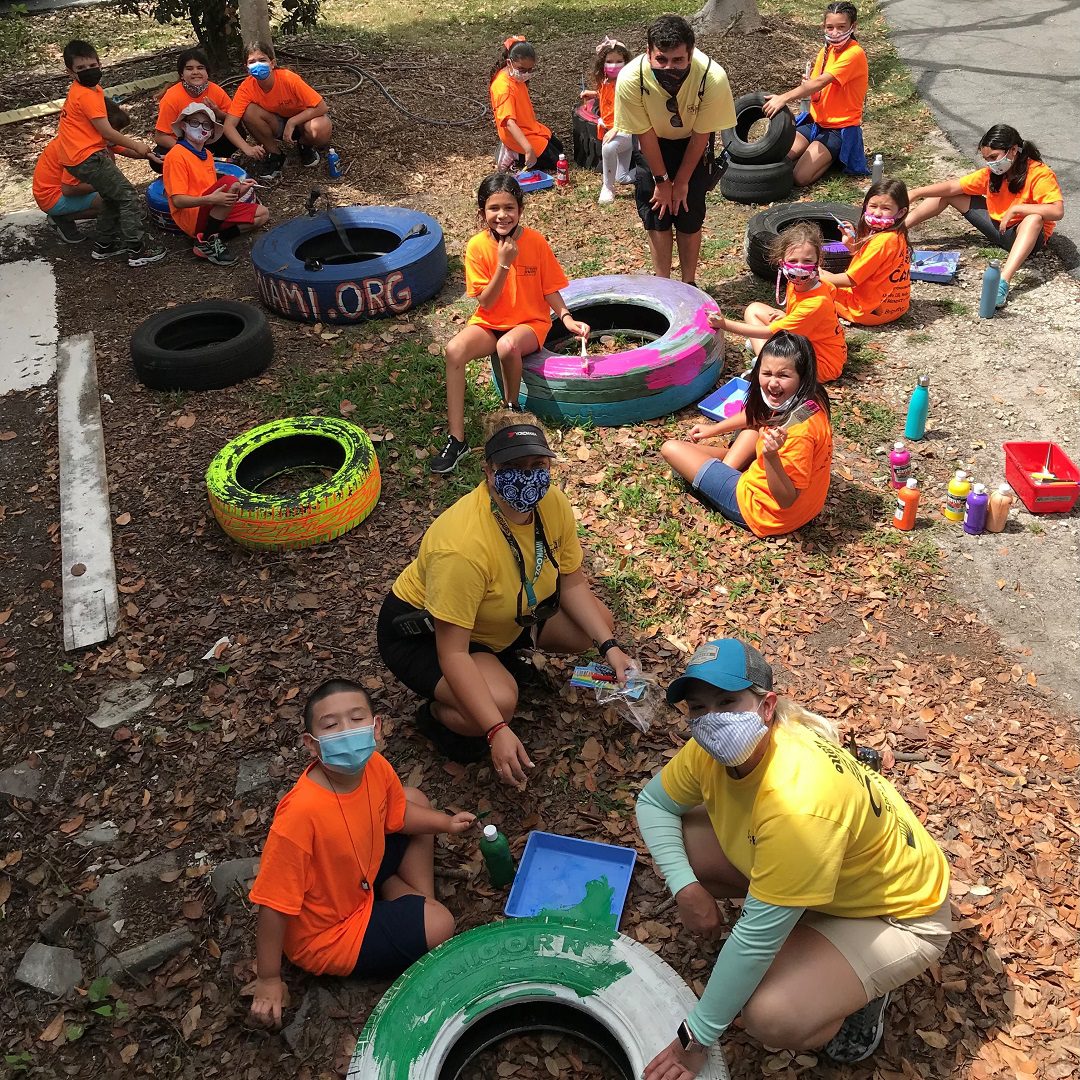 AGES 4–12 YRS
March 21 – 25
Campers will dive into the world of wildlife conservation exploring the many issues our animal friends face. Bloom this spring as we discover what we can do at home to help save the planet! Come face to face with our animals, plant native butterfly plants, do fun hands-on science experiments and much more!
The 2022 Miami Open presented by Itaú will once again host the world's greatest players at Hard Rock Stadium. The iconic tennis and entertainment festival  showcasing the culture, food, art and entertainment of South Florida.
Hard Rock Stadium
347 Don Shula Drive
Miami Gardens, Florida 33056
March 17 – April 10
except March 28-29 & April 4-5
The Youth Fair is back, enjoy a fun family experience packed with adrenaline pumping rides, fun games, mouth-watering food, live outdoor concerts, sensational shows, animals and local artists, academic and agricultural student exhibits.
Fairgrounds
10901 SW 24 Street (Coral Way).
Miami, FL 33165
March 18-20, March 25-27, April 1-3
Every night from 6 to 9 p.m.
Giant inflatable bunnies will take over Pinecrest Gardens, come see them! The exhibit is for kids and adults of all ages. Enjoy a What's Up Doc cocktail or mocktail! Check the schedule of events for nights where there will be yoga, silent disco, movie night and brews!
Pinecrest Gardens
11000 SW 57th Ave
Pinecrest, FL 33156
Calling all explorers: get ready to discover Zoo Miami in a whole new way! This spring guests can come and enjoy a virtual scavenger hunt at the park using an app on their mobile phones. While enjoying a stroll through the park families can use clues to find 12 fun eggs hidden all throughout our walkways. Once finished guests can redeem their prize of treat-filled eco-friendly eggs* and purchase their very own Springtastic Basket* filled with eggs, a coloring book, goodies, and more!
Egg-Venture is included with Zoo admission.
Zoo Miami
12400 SW 152nd Street
Miami, FL 33177
Strawberry season is in full swing in South Florida and many farms have opened their fields for strawberry picking. This is such a fun activity to do with your family, especially your little ones. We have curated a list of farms to go enjoy strawberry picking this season below. Have fun!!
Sunny Isles Beach
Collins Ave. – 157th Street to 193rd Street, Sunny Isles Beach
(305) 947-0606
Haulover Beach
10800 Collins Avenue, Miami Beach
(305) 944-3040
North Miami Beach
Collins Ave. – 46th Street to 78th Street, Miami Beach
(305) 673-7714
Surfside Beach
9301 Collins Ave., Surfside, FL 33154
(305) 864-0722
South Beach
Ocean Drive & 5th Street to Collins Avenue & 21st Street, Miami Beach
(305) 673-7714
Virginia Key Beach
4020 Virginia Beach Drive, Virginia Key, FL 33149
(305) 960-4600
Crandon Park Beach
6747 Crandon Blvd., Key Biscayne, FL 33149
(305) 361-5421
Matheson Hammock Park
9610 Old Cutler Road, Coral Gables, FL 33156
(305) 665-5475
Oleta River State Park
3400 NE 163rd Street, North Miami Beach
(305) 919-1846
North Shore Open Space Park
Collins Ave. from 78th Street to 87th Terrace, Miami Beach, FL 33141
(305) 861-3616
Bal Harbour
Collins Ave. – 96th St. to Haulover Inlet, Bal Harbour
(305) 866-4633
Miami Beach
Collins Ave. – 21st St. to 46th St., Miami Beach
(305) 673-7714
South Pointe Park
1 Washington Ave., Miami Beach, FL 33139
(305) 673-7730
Hobie Beach/Windsurfer Beach
South end, north side of Rickenbacker Causeway, Key Biscayne
(305) 361-2833
Bill Baggs Cape Florida State Park
1200 S. Crandon Blvd., Key Biscayne
(305) 361-5811
Homestead Bayfront Park
9698 SW 328th St., Homestead, FL 33030
(305) 230-3034
SPLASH PADS & PUBLIC POOLS
Butterfly World
3600 W. Sample Road
Coconut Creek, FL 33073
(954) 977-4434
Lion Country Safari
2003 Lion Country Safari Road
Loxahatchee, FL 33470
(561) 793-1084
Monkey Jungle
14805 SW 216th Street
Miami, FL 33170
(305) 235-1611
Zoo Miami
12400 SW 152nd Street
Miami, FL 33177
(305) 251- 0400
*Information & Images obtained from Zoo Miami, Miami Open, Youth Fair